A series of webinars has been launched for Indian journalism students, organized as part of the SputnikPro media group project. The webinars from the Andrei Stenin International Press Photo Contest will continue through December 2020 and January 2021. The participants are students of India's largest universities teaching journalism – Sharda University, Jagannath International Management School, and the Bharatiya Vidya Bhavan Educational Foundation.
Students from Manipal Jaipu University attended the first webinar held on Friday, November 27. The online session was moderated by Olga Dycheva, head of the Sputnik hub in New Delhi. The curator of the photo contest, Oksana Oleinik, and its producer Yekaterina Volkova, shared with the audience the secrets of success in photographic awards and competitions – from selecting works for submission through compiling a successful series to actually applying.
"I am very pleased to have the opportunity to do a workshop for Manipal Jaipur University. This is especially important right now, when the whole world has been put on hold and we are all trying to find new opportunities in this new reality. Journalism students are the future of our profession. All the experience gained should be shared with them today. The accelerated pace of our life dictates new rules, and we have to keep up with everything and do it here and now. The 7th Andrei Stenin photo contest will start soon, and we will be delighted to receive new works from India, which is traditionally one of the countries that participates most actively,"
Oksana Oleinik, the curator of the Andrei Stenin Contest and head of Rossiya Segodnya's visual projects, said after the end of the webinar.
Olga Dycheva, head of the Sputnik hub in New Delhi, agrees with her:
"The hub in India traditionally participates in organising a display of the Stenin photo contest in New Delhi, and we can see great interest in the project in that country. This year, unfortunately, the Indian audience will only see the participants' works online, but we hope that this new format of reaching out to students will attract many talented young people to the project."
The audience also shared their impressions of the webinar. Avisha Pareek, a student at Manipal Jaipu University, noted that as an aspiring photographer, she found the session was very interesting and rewarding.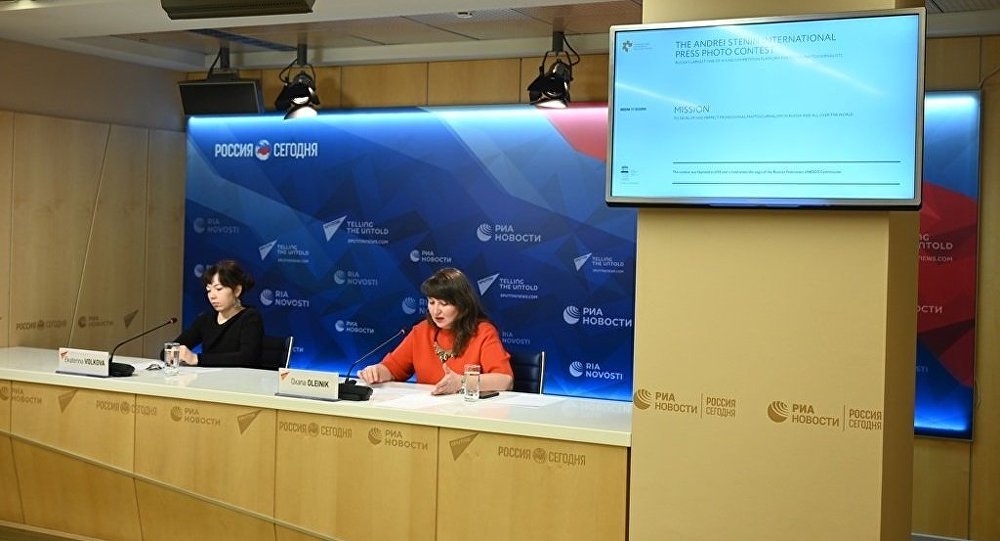 Her fellow student Ayaat Arora added: «This workshop in the importance of photo contests for young photographers, actually, made me believe to myself as its important to invest in myself. I don't mean only equipment and money I spend on, it's about investing to your opportunities. Now my skills maybe week but my passion and my confidence after this workshop are as more as value. I'd like to thank all of you for providing us such a great opportunity ».
Manipal Jaipur University, a public university in the state of Rajasthan in northern India, founded in 2011, is part of the Manipal Education Group, which includes four more universities (two located in India and one each in Malaysia and the Caribbean).
About the contest
The Andrei Stenin International Press Photo Contest, organized by Rossiya Segodnya under the patronage of the Commission of the Russian Federation for UNESCO, aims to support young photographers and draw public attention to the challenges of photojournalism today. It is a platform for young photographers – talented and sensitive individuals open to all things new – to highlight people and events near us.
2020 Stenin contest partners
General media partners: Vesti.Ru news website and the nationwide state Rossiya K TV Channel (Russia Culture). International media partners: Sputnik news agency and radio, Askanews news agency, Independent Media multi-platform company, Notimex news agency, ANA news agency, RT TV channel and website, Shanghai United Media Group (SUMG), China Daily website, The Paper website, Al Mayadeen media network, Prensa Latina news agency, News1 news agency, DBW website and Brasil 247 website. Industry media partners: National Geographic Russia magazine, Russian Photo website, Photo-study.ru website, Photo Academy, YOung JOurnalists website, Fotoargenta magazine, Delhi Photography Club, Enfoque Visual magazine and LF Magazine, the All About Photo website. International exhibition partner: PhotOn Festival.